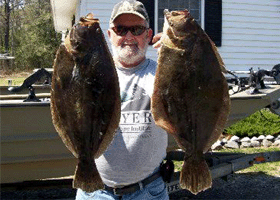 Fish the Eastern Shore.
Fish the Eastern Shore of Maryland, Delaware and Virginia and discover why folks drive for hours just to be here for the weekend. The Pocomoke, Wicomico, Nanticoke and Choptank rivers are beautiful and offer great bass fishing. "Inshore" salt water fishing the back bays at Ocean City, Maryland and all the great Eastern Shore of Virginia hot spots like; Gargathy, Quinby, Watchapreague and Willis Wharf make memorable flounder fishing trips. The brackish-salt water mouth of all the shore rivers, along with the Pocomoke Sound and Crisfield area waters, offer fantastic rock fishing. Every destination we have mentioned is under a one-hour drive from Snow Hill, Maryland.
Bring the family to the beaches at Ocean City, MD and see the wild ponies on Assateague Island or visit Chincoteague, Virginia for a day trip and have a great oyster or crab cake dinner. While here you can spend a day fishing with Captain Bruce Wootten and check out the website for all the options we offer for a quality day on the water. Let the wife and kids swim at the ocean while you spend the day fishing for bass, flounder or rockfish with us.
Sometimes the wife may want to spend only a portion of the day fishing so we pick her up at a predetermined time to share the trip. We pride ourselves on being flexible and giving our clients what they want. We fit your needs and time schedule and treat you like family. Over 80% of our customers rebook another trip and folks that own boats are rapidly discovering they can charter several productive trips a year for the money they are spending on tags and insurance and upkeep maintaining their own rig.
__________________________________________________________________

Contact the Captain
captbrucew@gmail.com
6661 Snow Hill Road
Snow Hill, Maryland 21863
Phone 410-251-9677